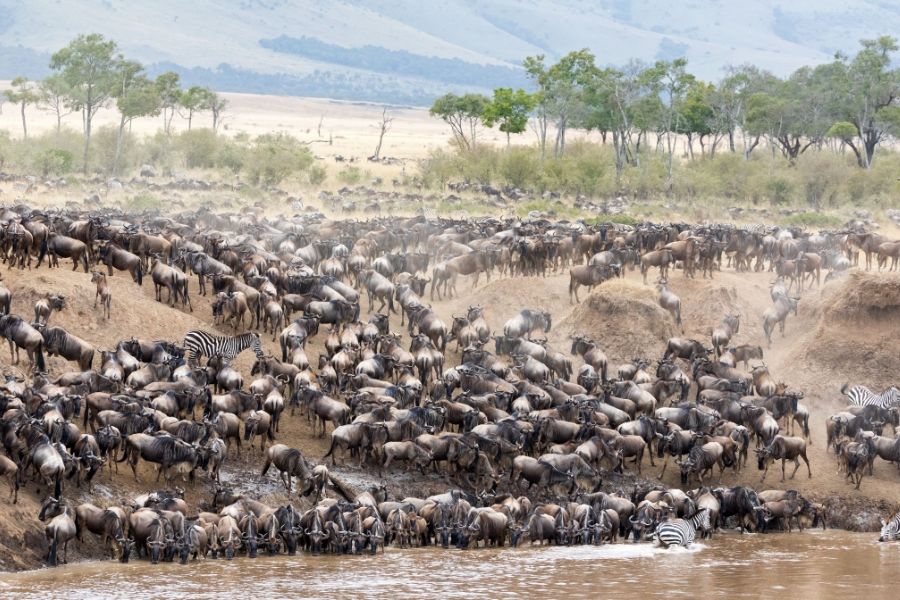 Day 01: Arrive Kilimanjaro International Airport – Arusha.
Upon arrival at Kilimanjaro Airport, our VIP Visa Specialist will meet and welcome you to East Africa. He guides you through the entire Tanzania Visa application process and skipping long immigration queues. With Safarimet Travels, you will be escorted from arrival to departure, making your arrival to Tanzania completely worry-free.
Upon exiting the airport, Safarimet Travels representative will be holding a poster with your name who will transfer you to Arusha (45 minutes) for the Serenity retreat of Killi Villa Retreat set on a picturesque coffee plantation; this charming lodge has beautiful views of Mount Meru and is the ideal place to acclimatize to Africa.
After settling into your cottage, take a stroll through the plantations, visit the markets of nearby Arusha, or simply relax in the poolside gardens with a chilled drink. On cool winter evenings, get cosy next to a fireplace and sip one of the best coffees you will ever taste.
Day 02: Tarangire National Park – Elephants and Baobab Trees on Your First Game Drives
Depart 08h30 from Arusha with 4x4x and drive to Tarangire National Park is a unique place and an absolutely fantastic in this time of the year. Viewing some of Tanzania's largest populations of elephant and enjoying the diverse scenery, including the dramatic baobab trees that are so typical of the park.
Enjoy a delicious Picnic Lunches near the stretch of Tarangire River. More game drive until end of the day you drive to Sanctuary Swala Camp for dinner and overnight.
Day 03: Bush Walk – Exploring the Tanzanian Woodland – Night Game drives – Sundowner + Cocktails.
With a new African morning, there's calmness to the Tarangire panorama. It seems serene and soft, a little haze rising through the 300-year old trees. But head out at this hour, and it's eventful in the bush. Antelopes don't graze. They stop and listen, fearful of a predatory approach. Elephants bash into trees and hundreds of giraffe feed silently. Morning is the premier time of day for a game drive, a time when big cats are on the move, and big mammals are feeding with abandon. The grass moves, and camouflage is betrayed.
Keep watching and it's another minute before the next rustle. But now the sighting is unmistakable. Just ten meters away there's a cheetah concealing itself amongst the green. Perhaps the impala gets scared, and you don't see more than this. But on some mornings, you watch a whole stalking and hunting scene play out Sanctuary Swala Camp for dinner and overnight.
Day 04: Lake Manyara National Park – Game drive – Sundowner.
Breakfast with best fine view and you leave the camp and with en-route game drive to Tarangire gate for exit and drive the short distance to Lake Manyara National Park for Full Day game viewing to this unique park with an alkaline lake and breathtaking views. Here you will view a wide variety of wildlife and the acacia woodlands offer the best overall wildlife viewing in the park.
Enjoy your picnic lunches under the Acacia trees. This habitat is favored by the park's famous tree-climbing lions, leopards and giraffes and can claim the greatest elephant concentration in East Africa. Algae thrive in the high saline content of the lake. Huge and colorful flocks of birds gather in the water to feed, including many different varieties of birds that coexist together. In fact, well over 300 different species of birds have been recorded here, continue with afternoon game drive and later drive to the Lush retreat of Lions Paw Camp Ngorongoro for cocktails drinks dinner and overnight.
Day 05: Ngorongoro Crater Africa's "Garden of Eden – Bush Dinner + Cocktail:
Early breakfast and today you will explore the famous Ngorongoro Crater during a wonderful game drive (with a picnic lunch) inside the Ngorongoro Crater often described as one of the Wonders of the world. It is the world's largest intact volcanic caldera and a natural sanctuary for some of Africa's densest Animal populations.
It is one of the few places where the rare black rhino can be observed in their natural setting. As very few animals migrate in and out of the crater with its 2000 ft. high walls, you can expect to see lions, elephants, zebras, Hippos, flamingos, jackals, rhinos, antelopes, many birds and other species. With a bit of luck, the 'Big Five' can be spotted during one game drive only. Drive back to Lions Paw Camp Ngorongoro for dinner and overnight.
Day 06: Olduvai George – Masai Village Cultural – Eastern Serengeti Taasa Private Reserve.
Breakfast, drive to Serengeti National Park. Stop at Olduvai Gorge, which is often referred to as 'The Cradle of Mankind' and is one of the most important prehistoric sites in the world.
Proceed to Serengeti National Park – with its endless plains, rolling into the distance as far as the eye can see. We head to the central park area, known as the Seronera area, one of the richest wildlife habitats in the park, featuring the Seronera River, which provides a valuable water source to this area and therefore attracts wildlife well representative of most of the Serengeti's species. Dinner and overnight at Taasa Lodge-Suite Chalet.
Day 07: Taasa Private Reserve Bush Guided Walk – Sundowner + Cocktails + Night Game drives.
Walking in the bush, surrounded by all the sights, sounds and smells of Africa is completely different and more personal experience than a drive in a Safari vehicle. Learn about medicinal plants, how to start a fire with sticks, and the wildlife you might encounter. Also look out for small Oribi, which thrives in this area, but is otherwise extremely scarce in northern Tanzania generally. Sunset game drives to Taasa Lodge in the Private Concession for dinner and overnight.
Load into our open-sided Toyota Land Cruiser with warm blankets and head out in the dark of night under starlit skies. The experience of a game drive at night is very different from one during the day and you may see striped hyena on the prowl or lions on hunt. Your Maasai guide will be in his tracker's chair mounted on the vehicle front with his floodlight sweeping for reflective eyes of predators. One never knows what will be lurking in the dark, but it is guaranteed to be electrifying and totally unlike your daytime game drives. Taasa Lodge-Suite Chalet.
Day 08: Taasa Private Reserve – Sunrise Game drives – Cultural experience at Campfire + Bush Dinner.
06h00 Begin your sunrise safaris and return for late breakfast at 09h00. Enjoy morning and afternoon game drives in the Northern corridor of Serengeti National Park, where you can often see wildebeest and large numbers of lions and cheetahs, as well as herds of giraffe and zebra – a most unforgettable spectacle of Africa's circle of life, right before your eyes! Equally impressive are Tanzania's magical sunsets, which out here are celebrated at traditional "sundowners" … like those you'll enjoy at your Lodge on your final night on safari, followed by a festive farewell dinner. Dinner and overnight at Taasa Lodge.
Thousands of zebra and wildebeest cross the Mara River during the annual migration between Tanzania and Kenya. The annual migration sees over a million wild animals move from one country. You'll feel right at home between game drives in one of our luxurious and spacious en-suite tents. Expertly appointed, each one seamlessly blends modern comforts with uniquely African accents.
Enjoy stunning views of the Lobo Valley from the serenity of your private verandah or curl up with a good book in your own cozy sitting area, beautifully furnished with a large sectional couch and desk. A raised sleeping area features either a king or twin sized beds. En-suite bathrooms are complete with a stone shower, double vanity, and hair dryer, along with sumptuous robes and towels – a touch of indulgence in the bush. Taasa Lodge-Suite Chalet.
Day 09: Eastern Serengeti Private Concession – Fly to Arusha – Kilimanjaro Airport – Departure.
Early start today for an early morning game drive to see also nocturnal predators returning from hunting and animals waking up in early morning light or breakfast at the lodge, and morning go on your final game drive in Big & Small Marsh Plains. Keep your eyes open for any elusive wildlife that you may not have seen, transfer to Lobo Airstrip in time for Check in (Luggage free weight each person is 33 LBS & 11 LBS on Hand bag), and Schedule flight to Arusha Airport. REGIONAL AIR flights depart Lobo Airstrip at 09: 30 AM and arrive at Arusha Airport at 12: 15 PM.
On your arrival at Arusha Airport you will be Meet with our driver and drive the short distance for a fare well deserved Lunch at BUTTER & SCOTCH SABLE SQUIRE. Here you will have a variety of English – African taste meals with soft drinks & juices. After lunch we transfer back you to Kilimanjaro International Airport in time for check in for departure flight.
Price Inclusions
Transport with safari Vehicle with pop-up roof 4×4 Jeep
All park entrance fees
Accommodations in the Camp or in the lodge
Full board accommodation, three meals per day while on safari
Game drives in Serengeti and Ngorongoro Crater
Bottled Drinking water
Ngorongoro Crater fees
Price Exclusions
All beverages while on safari / Nairobi
Any international flights
Evacuation fees
Telephone, laundry & any items of personal nature
Visa fees & international flights
tips for guides & camp / lodge staff
Travel & Medical insurance
Balloon safari in the Serengeti – 590$ per person
| | | | | | | | |
| --- | --- | --- | --- | --- | --- | --- | --- |
| No. of Pax in one group | 7 Pax | 6 Pax | 5 Pax | 4 Pax | 3 Pax | 2 Pax | 1 Pax |
| Price/Person | $2,285 | $2,122 | $2,285 | $2,580 | $2,937 | $3,851 | $5,550 |