Mount Meru is the fifth highest mountain on the African continent and the second highest in Tanzania and dominates the Arusha National Park with its huge cliffs. The mountain is often used as warm-up hiking in preparation for the Kilimanjaro. However, the technical requirements are greater on Mount Meru than on the Kilimanjaro Routes. On the four-day trekking tour, you are more than likely to see giraffes, buffalos, antelopes and baboons; therefore, a park ranger will accompany you for your safety.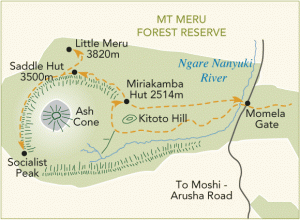 The mountain is the centrepiece of Arusha National Park and its fertile slopes rise above the surrounding savanna and support a forest that hosts diverse wildlife, including nearly 400 species of birds, and also monkeys and leopards. Trekkers have the opportunity to see a lot of wildlife as they approach and climb the mountain.
The ascent is quite steep in places and the route to the summit passes over a number of streams, moving through grasslands, tropical rainforest, alpine meadows, moorlands and desert uplands to snow and ice. The summit is reached by a narrow, barren ridge, which provides stunning views of the Ash Cone lying several hundred feet below in the crater.
It reaches 4,566 metres (14,980 feet) in height but has lost much of its bulk due to an eastward volcanic blast about 8,000 years ago. Mount Meru most recently had a minor eruption about a century ago. The several small cones and craters seen in the vicinity reflect numerous episodes of volcanic activity.