Machame route is one of the scenic routes for those climbers climbing Mount Kilimanjaro. Machame route starts from Machame village at the base of Mount Kilimanjaro. Machame route is also known as Whisky route due to its beautiful scenic as well as its land escarpment.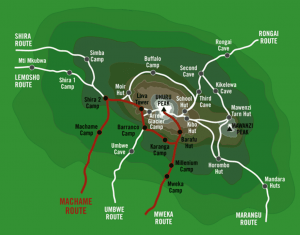 Those people climbing Mount Kilimanjaro through Machame route feels prestige as this (Machame route) is one of the harder route in climbing Mount Kilimanjaro. Though the Machame route is harder there is no technical climb when climbing Mount Kilimanjaro using Machame route. Machame route start from Machame gate to Machame Camp and proceed to Shira camp, lava tower camp, Barranco camp, Karanga valley camp, Barafu camp, Uhuru Peak and descending through Millennium camp, Mweka camp and thereafter to Mweka gate.
Climbing Mount Kilimanjaro using Machame route differ from Marangu route since your equipment and supplies are carried by porters and a cook prepares all you meals. Where accommodation on the Marangu route is in huts, the Machame route offers strictly tents only.
This makes climbing Mount Kilimanjaro better suited to the slightly more adventurous hiker, rewarding him with a scenic brilliance such as not seen on the Marangu route. Climbing Mount Kilimanjaro from late afternoon using Machame route as the sunsets at Shira, which takes not less than six days, provides the slide slow as the misty revelations of Kibo at the great Barranco Wall, the Machame route offers the adventurous hiker a stunning scenic.
Machame Route Itineraries